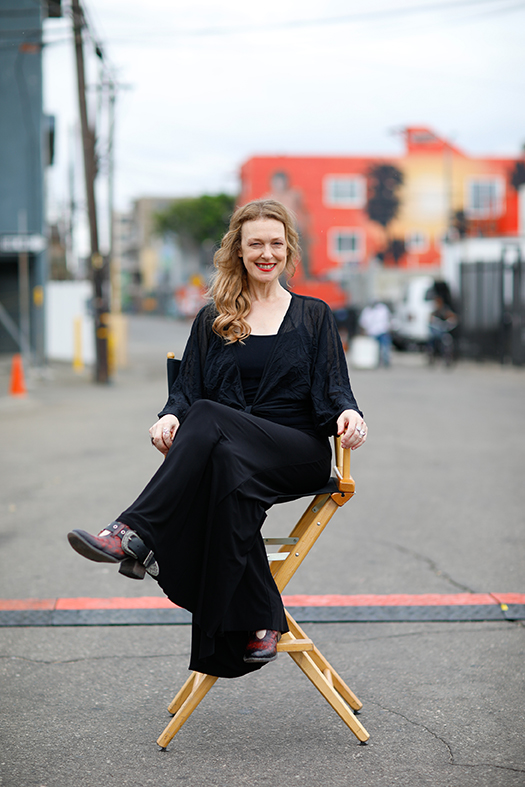 Groundbreaking director, Deborah Kampmeier, is currently in prep for a Star Trek episode that she'll be directing. Deborah had taken my Directing the Camera course twice when I taught it in person, and she was one of the first to enroll when I offered it online. She recently told me that she reviews the course before every project as part of her preparation.
Below is a brief interview with Deborah, where she offers advice to directors on shot planning:
Deborah talks about the essence of her approach, about being nervous, about being a female director, and what she's done to win men over as our allies.
Ela: If you were to share just one piece of advice with directors on shot planning, what would it be?
DEBORAH: When I'm sitting with my script and thinking about the shots, I always start with the performance. I start with what I understand about the human dilemma, or the human event. I start from the heart of the character. The sequence of my thinking starts with what I imagine will be the performance that the actor will bring to the table. Both emotional and physical. Then I build my shots from there.
Sometimes I'm wrong about that and I get to set and the actor takes it in a different direction but, as you know, because I've done my prep, I'm flexible and I can change it up in the moment. Because I started as an actor and I taught acting for years, 99% of the time what I imagine my actor doing is what they do.
My shots are organic in relation to what my actors' impulses are going to be. So I'm not creating my shots abstractly or from a cool idea. I'm creating my shots from what I imagine the actor will do with the story.
I just re-watched the Directing Camera course (I'm rewatching the course every morning with my coffee because I'm prepping my next tv episode), and I was watching the section on moving the actor rather than moving the camera, and I love that so much, it was a big revelation when I first took this course.
Ela: I love that. What would you say to directors who feel nervous about shot planning? Who feel insecure about it?
DEBORAH: Take Ela's course.
(I laughed)
DEBORAH: Seriously! That's my answer. Because what you offer is so clear. Once you have that clarity… Let me say: I'm always nervous. I don't know a director who isn't nervous. Nerves shouldn't dissuade you. And nerves shouldn't be some red flag like, oh, I'm not good enough. Nerves are part of the equation of being an artist and wanting to do your best.
* I offer a variety of free training sessions and resources to writers and filmmakers. Request your free membership to be notified when my (free!) shot planning crash course is available:
Ela: Any advice specific to women directors?
DEBORAH: The establishment will tell you that your vision is wrong. They'll do it in overt ways and they'll do it in subtle ways. The subtle ways are actually harder because you get this nagging feeling inside that maybe they're right.
You have to be willing to stay true to your vision even at the risk of failing. It happens to me all the time. It comes in an eye roll. It comes in overt challenges. And I have to be willing to live in the discomfort of the "authority" telling me I'm wrong.
I can tell you that over and over again, I have been mocked and humiliated for a shot I wanted, that then ended up on a DP's reel.
Ela: Anything you want our male allies to hear?
DEBORAH: My DP once [on a particular project] pushed me as hard as he could on a shot I wanted and verbally humiliated me. I told him that regardless of his opinion I was going to shoot the scene as planned. Unknown to anyone on set, I went to the bathroom and cried. I just need to do that sometimes. Other days I need to curse, but this day I needed to cry. Then I went back to set, stood tall, despite how small and scared I felt inside, and got my shots.
I ended up speaking with him later about what had happened. I was very vulnerable with him. Since we were in private, I allowed him to see my tears as I told him that what he thought mattered to me. I told him that I was hurt by what he had said. He changed completely and from the next day on he could not have been more of an ally.
Even now I get scared, even now I feel like "maybe I'm wrong." But, maybe because I came from the South, and was told I'd never make it, I had to put on my cowboy boots and say f*ck you motherf*ckers, over and over. At least in my head. But I'm also a big advocate of women cursing out loud, as well as crying… The vulnerability of being willing to be a fool.
Deborah Kampmeier is an award winning filmmaker, having written, directed, produced and edited multiple short and feature films.
Her first feature "Virgin," starring Elisabeth Moss and Robin Wright was nominated for two 2004 Independent Spirit Awards, including Best Actress for Elisabeth Moss and the John Cassavetes Award.
Her second feature, "Hounddog," starring Dakota Fanning and Robin Wright was nominated for the Grand Jury Prize at the 2007 Sundance Film Festival.
Deborah's third feature, "Split," won Best of Show at the 2016 Female Eye Film Festival and was nominated for the Independent Vision Best Film at the 2016 Sarasota Film Festival.
Her fourth feature "Tape," starring Isabelle Fuhrman, had it's online VIRTUAL release March 26th 2020 and is now available on VOD.
Kampmeier made her television directorial debut on Ava DuVernay's critically acclaimed series "Queen Sugar" in 2019 and followed immediately with two episodes of DuVernay's new series "Cherish the Day."  Deborah has just finished directing several episodes of the new CBS show "Clarice," and is prepping an episode of "Star Trek: Discovery."
She is developing her next feature "Dirt Rhapsody," as well as her series "A Witch in Harlem," and limited series "Pilgrim"s Wilderness."